Mausoleums
A mausoleum is a final resting place that provides an above-ground interment within a building-like structure. Often, mausoleums have a vestibule, or entrance room, where family members can visit their loved one in an environment protected from the elements. The mausoleum can contain crypts for caskets or niches for urns. The fifth wonder of the world is a mausoleum built for King Mausolus who ruled over part of Asia Minor and died in 353 B.C. The word mausoleum stems from his name. At Riverside Cemetery, there are options for building personal mausoleums on private lots or selecting existing spaces in the elegant Camellia Mausoleum.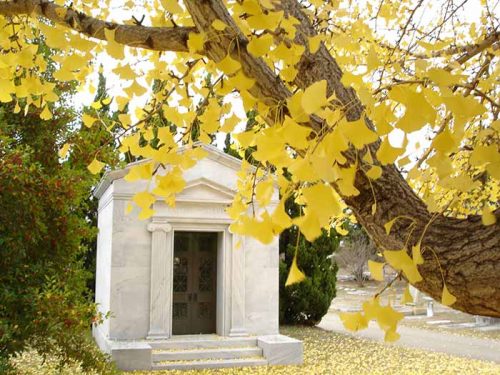 Camellia Mausoleum Spaces Available
The Camellia Mausoleum offers beautiful marble front crypts and niches for those who prefer an above-ground option. The Camellia Mausoleum was built in 1999 and was designed with a covered, open-air veranda perfect for holding services or providing a comfortable place to sit while paying respects to loved ones. Take a guided tour with Riverside Cemetery's representatives to see the sophistication of the Camellia Mausoleum.
Macon Public Mausoleum
Built in 1918, the impressive Macon Public Mausoleum crowns a hill in the heart of Riverside, holding 300 crypts and providing a final resting place for some of Macon, GA's most notable past citizens. Although there are no spaces available in the Mausoleum, family visitors may enter by appointment to pay their respects to loved ones. This awe-inspiring structure adds to the unique landscape of Riverside Cemetery.
Pre-Plan Today
Whether you yourself are considering mausoleum entombment for a loved one or pre-planning for, Riverside Cemetery has a large number of Mausoleum spaces available, or we can assist in the planning and construction of a personal mausoleum on your lot. There are many advantages to pre-planning your arrangements including alleviating the stress of decision-making during a difficult time for your loved ones. Families often remark that this is the greatest gift a parent has left them.  One of the first steps to pre-planning at Riverside Cemetery is scheduling a personal tour with the cemetery's President or Maintenance Superintendent. Having devoted their professional careers to Riverside for more than 60 combined years, they will guide you through the cemetery, offer helpful advice, shepherd the pre-planning process and answer any questions.