Established in 1887, Riverside Cemetery is located just off Riverside Drive above the Ocmulgee River on a beautiful, 125-acre parcel of land. It is the final resting place of over 19,000 people including Civil War veterans, esteemed civic and business leaders, renowned educators, religious leaders of several faiths, members of the Military, and prominent Macon families.
The beautifully landscaped cemetery continues to be developed, with new areas being added for family and individual interment. Though Riverside Cemetery is listed on the National Register of Historic Places, it is a modern and active cemetery, with many plots and spaces available in the Camellia Mausoleum, cremation garden, traditional burial sections, columbarium, and estate lots.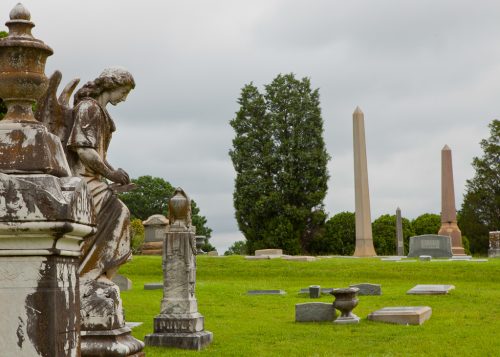 Design & Concept
The original charter of Riverside Cemetery was granted by the Superior Court of Bibb County on April 6, 1887. The first act of this board was to commission the renowned architect-landscape design firm headed by Calvert Vaux of New York to create the original design for Riverside Cemetery. A native of London, Vaux came to the United States in 1850 to be associated with Andrew Jackson Downing and later with Frederick Law Olmstead. Calvert Vaux is remembered for his work with Central Park, Riverside Park, and the Museum of Natural History in New York.
Later areas of Riverside Cemetery were designed by landscape architect and cemetery designer, Ray Wyrick, whose work is found throughout the United States.
History & Significance of the Gatehouse
The gatehouse, which served for many years as the main office for the Cemetery's operations, was built in 1897 under the direction of Architect-Engineer Peter E. Dennis and remains a rare and unique example of Old English half-timbered construction. It is currently used for cemetery meetings and special events, and serves as the trail head of the Riverside Cemetery portion of Macon's Ocmulgee Heritage Trail.
Civil War Redoubt
In the spring of 1864, Union forces approached Macon from the north and west. On a bluff above the Ocmulgee River, the Macon Volunteers and impressed slave labor, under the command of General Howell Cobb, built a parapet to serve as a point of lookout and defense. Twenty years later, several prominent citizens of Macon – some former Confederate officers – founded Riverside Cemetery in 1887. The Civil War era redoubt remains intact, today overlooking the Violet section where family estate lots are carefully tucked between perfectly landscaped terraces. It is a historic landmark on Georgia's Civil War Trail. Many other earthworks were built to defend Macon, but only two in addition to Riverside's remain; one at the Dunlap Farm, now the site of Ocmulgee National Monument, and one at the current Baconsfield area, both on the river's east side.
National Register of Historic Places
Riverside Cemetery has been listed in the National Register of Historic Places by the U. S. Department of the Interior for more than 30 years due to the "architectural and historical significance of the property."
Notable residents
Every person leaves a legacy. As such, Riverside Cemetery could be considered an underground museum – the repository of more than 18,000 individual histories, each with its own stories to tell. The Riverside Cemetery Conservancy shares some of the most notable of these through its annual Spirits in October Tour and Spring Spirit Stroll, as well as a self-guided tour map of the cemetery.
A few of the most recognizable Riverside residents include:
Known as the Father of Georgia Tech, Hanson helped convince the state legislature of the need for a school for technological studies in Georgia. In 1885, the Georgia Institute of Technology became a reality. Hanson was cited by journalists of the day as one of the greatest builders of the South.
Young Stribling was a world-famous heavyweight boxer who came close to being #1 four separate times with a total knockout record of 126. He was knocked out himself only once, a technical knock out, during the final round with Germany's Max Schmeling in 1931. His life & stellar career were cut short when his motorcycle collided with an automobile while on his way to visit his wife and newborn son at the former Macon Hospital. Ten thousand people attended his funeral. A bridge over the Macon's Ocmulgee River at Spring Street is named in his memory.
Young Mabel White, the daughter of Dr. and Mrs. J. L. White, died at 12 years old from septic pneumonia she contracted while recovering from an appendectomy. Little Mabel died in her father's arms, singing hymns and comforting her parents, brothers, and sisters as they gathered around her. Inspired by the story of Mable's heroic dying, a tiny, struggling Baptist congregation took her name to become one of Macon's most well-known and well-attended churches with a congregation numbering in the thousands
Fickling, a prominent local businessman, civic leader, and philanthropist, was the inspiration for the city's annual Cherry Blossom Festival, which brings hundreds of thousands of visitors to the city each year. In 1949, Fickling discovered a Yoshino cherry tree in his newly landscaped yard, only to realize during a 1952 business trip to Washington, DC, what it was. He learned to propagate his Yoshino cherry tree and began giving them away to friends and neighbors, eventually endowing the City of Macon's greenhouse to take over his philanthropy. To date, more than 300,000 trees have been distributed due to his generosity and love of community.
Georgia's First Lady of Flight and a 1936 graduate of Wesleyan Conservatory, Raines became the first woman in Georgia to earn a commercial pilot's license before becoming a skilled barnstormer, performing in air shows and fly-ins around the Macon area. During World War II, she was chosen to serve in the Air Transport Auxiliary as a ferry pilot, flying many types of aircraft to their delivery points for the RAF in Britain, logging more hours than any other ATA pilot. Raines was an active member of the Women's Air Service Pilots (WASPS), performing dangerous maneuvers for training pilots, and a member of Amelia Earhart's Ninety-Nines. When she died in London at age 40, she had amassed 6,400 hours of flight time in many types of aircraft.
Uncle Ned and the Haylofters were a wildly popular regional blue-grass band during the 1950s and '60s. Stripling hosted "Uncle Ned and the Hayloft Jamboree," on WMAZ radio for 18 years, before becoming WMAZ television's first live music show when the station went on the air in 1953. Uncle Ned and the Hayloft Jamboree did nine hours on TV, five hours on radio and a minimum of four live performances each week. The TV performance ratings drew WMAZ's second-largest viewing audience, bested only by Gunsmoke, the nation's most popular Western. Gene "Uncle Ned" Stripling died suddenly at the age of 42 in 1958, while performing at a dance in nearby Hawkinsville.
Board of Directors
Riverside Cemetery is a non-profit organization governed by the Board of Directors for the benefit of all lot owners. The Board of Directors presides over the cemetery and the president. Throughout its history, Riverside has been influentially managed by many of Macon's important founding fathers and business leaders.